I had never heard of this cake before nor any of my main family members. I found it in my recipe book but found this is a common recipe. Online some
times referred to as a white trash cake recipe.

I thought, as did my mom & grandma, Coco Cola Cake? Is this like tomato soup cake. With liquid tomato soup out of a can in the center of the cake? Here is what I soon discovered about the infamous Chocolate Coco-Cola Cake. 1st - many version.


I haven't been baking sweets too much since my vow to eat healthier, but today seemed like a dessert day. I made the Coca Cola Cake & I don't drink or like soda, but I loved this cake! It was so moist and delicious. If you love soda you maybe a little disappointed you couldn't taste the Coke in the cake. The cake itself is one of those moist fluffy cakes. If you pressed the back of a fork to it, it would just lift up with the fork.
Chocolate Coca-Cola Cake
2 cups all purpose flour
2 cups sugar
2 tbsp cocoa
1 tsp baking soda
1 tsp salt
1 cup butter
1 cup Coke (Coca-Cola)
1/2 cup buttermilk
2 eggs, beaten
1-1/2 cups miniature marshmallows
1/2 cup vegetable oil (optional)
1 tsp vanilla extract
Preheat oven to 350, and thoroughly grease a 9×13″-pan.
In a medium bowl, whisk together flour, sugar, cocoa, baking soda and salt. Bring the butter and Coke to a boil and add to dry ingredients, mixing until well incorporated. Add the buttermilk and eggs, mix well, and then fold in marshmallows. Don't be alarmed; the batter is very thin and the marshmallows will float on top.
Bake for 45 to 60 minutes. Frost when hot.
Add marshmallows right into batter and fold them in.
Chocolate Coke Fudge Icing
1/2 cup butter
2-3 tbsp cocoa
6 tbsp Coke (Coca Cola)

1 tsp vanilla extract

16 ounces = 1 box confectioner's sugar or powdered sugar (approx. 3 cups)
1 cup chopped, toasted chopped pecans or other nuts (optional)


Mix butter, cocoa, and cola in a small saucepan, and bring to a boil. Add vanilla and pour over powdered sugar, whisking well. Fold in nuts. Spread over cake while hot. Let the cake cool entirely before serving so that the icing sets.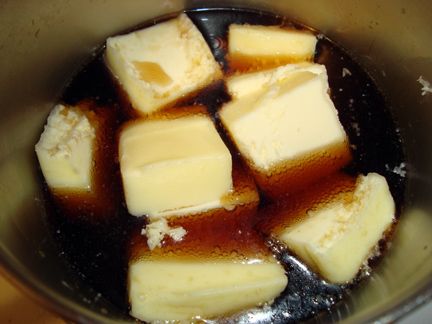 This is a weird but very common recipe.
The result was very good, but very sweet. The cake itself isn't too sweet - chocolate, but has a faint caramel-like flavor added from the cola. The icing, on the other hand, is incredibly sweet like sinful fudge, but the two combines meld (mesh) well together. The frosting makes a thin layer that is just the right sweetness for the cake.
Each person unaware of this cake recipe were not up to the taste test. Once I told them you will enjoy trust my baking this cake was enjoyed by all. I was also amazed to watch the way the marshmallows simply baked into the cake, making it extra silky and springy. Note: You could substitute the cola with another brand of soda. Pepsi, I find is sweeter and less caramel-tasting than Coke or RC.