Julie Benz (description below) .
Evan R. Wood
Jennifer Morrison (House)
( Christina
Applegate
)
( Kate
Winslate
)
( Renee
Zellweger
)
( Seal &
Heide
Klum
)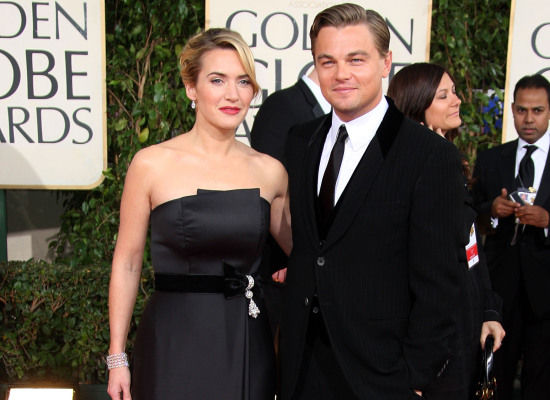 ( Kate & Leo )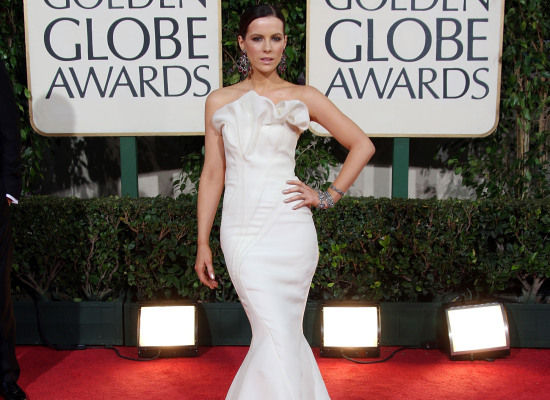 Kate Beckinsale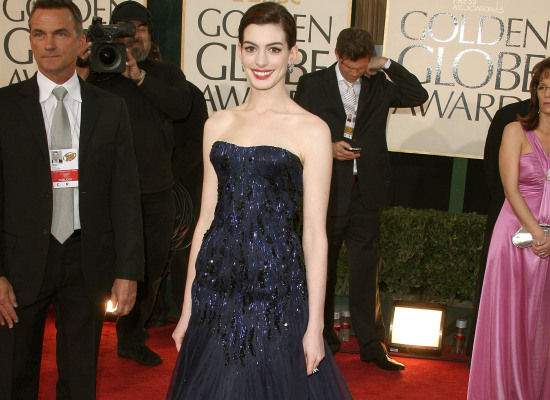 ( Ann Hathaway )
( Drew Barrymore)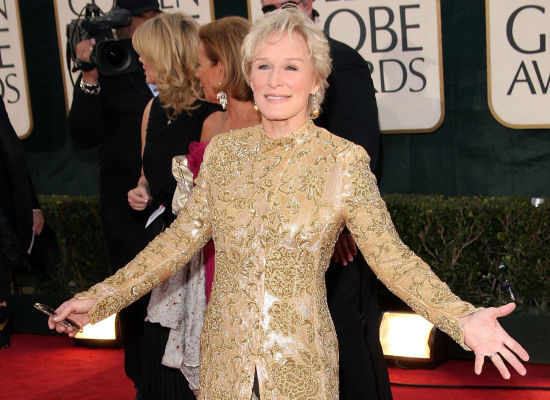 ( Glenn Close )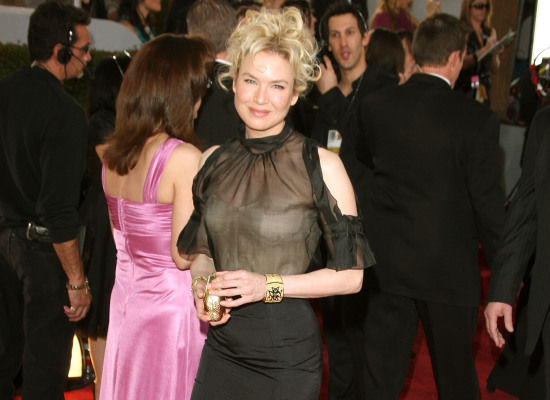 ( Renee again )
One of the earlier
arrivers
was
Lisa

Edelstein
in a beautiful black dress that fits her body and a great
bling
of ice bracelet and earrings that make a statement.
Actress Jennifer Morrison
(House) wore a beautiful blue jewel tone gown that fit her like a glove. Dress is by Oscar
de
la
Renta
and jewelry by Lorraine Schwartz. Her hair was impeccable in a elegant
updo
and wonderful unique earrings, designer bangle bracelets and silver clutch.
Demi

Moore
Beautiful as always in her peach ruffle gown. I'm not a fan of her dress but she's pretty and the color works well for her. Long wavy brown hair, Silver Clutch and jewelry ( bracelets ), and of course her best accessories Ashton.
The Hot Theme or Trend at the 2009 Golden Globes was:



Jewel tone colors and classic black was also seen on the carpet. Jewel Tone colors ranged from Red, to blue, to almost every shade of purple.



Big Jewelry pieces like earrings, rings, and bracelets. I didn't see many necklaces but I did notice

Beyonce

wore earrings and a diamond bracelet with plenty of

bling

and a equally stunning dress in the same white gold color and looks of sparkle, texture and pizazz.



Lots of Belts



Dark nails was worn by a few.



Most makeup was minimal with soft lips and eyes though some chose a more smokey dramatic look.



Form fitting curvy shapely dresses.

Bangle Bracelets





Actress Olivia Wilde
attends the 66
th
Annual Golden Globes Awards in a beautiful Pastel Purple Dress adorned with lace and ruffles arranged on the bottom half of her gown. Top half was strapless and Look at all the detail on this full ballroom dress. Paired with a Slim jeweled belt and large earrings and soft makeup. She kept her hair long and simple which gave her a just enough understated look to not take away from the drama of her earrings and fab dress. This was my favorite look of the night. She owed the red carpet tonight. Will make for some amazing photos.
Actress

Taraji

P. Henson
was a picture of femininity as her black dress. It was form fitting showing off her curves and the added ruffles gave it a soft touch.
( Pictured at top of page )
The cast of "Dexter
," I loved Julie
Benz's
dress in a soft pastel metallic color of Green and a matching belt. While most wear the shade of black or Jewel tone bright colors some kept it soft and starry. Her makeup as most was pretty yet simple and natural. Large diamond dangling earrings adorned her earlobes and her
blonde
flaxing
hair was in a pony tail.
Miley

Cyrus
: I enjoyed the sweet and
greek
inspired white and gold gown.
Miley's
hair as most was down and had soft
wavys
. Gold bracelets and large
daggling
earrings finished the look. She kept it pretty and sweet, soft and starry. The dress fitted her well.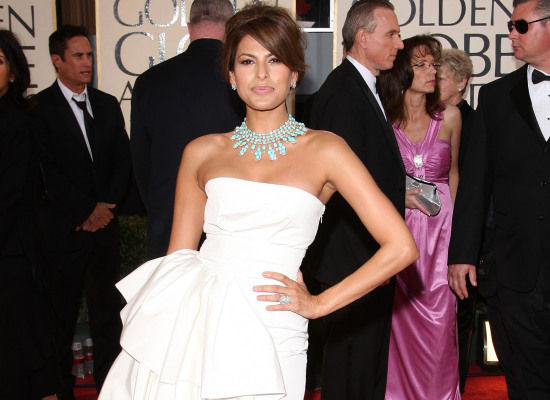 Eva Mendez
usually looks stunning but while up on stage presenting she was seen looking like a Big Mess. Her hair was in shambles while the once elegant up do became disheveled. It looked like a very bad case of bed head after a tornado. What was her stylist thinking?! Eva
Mendes
wore a white gown from Dior with a hefty turquoise necklace. Her large blue green necklace was nice but her white or cream colored dress was just not hot. The big
blugg
of fabric gathered in the front did nothing for the dress or for Mendez. Sorry Mendez I like you but please fire your stylist crew and buy some mirrors.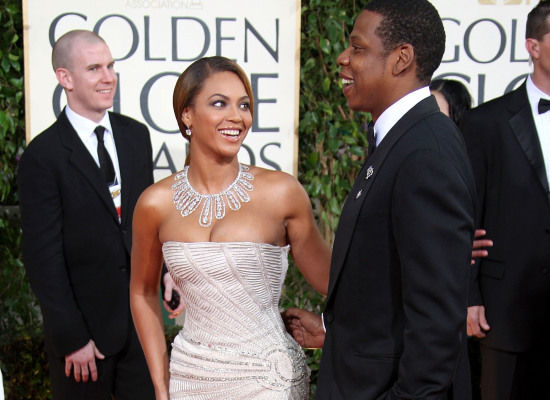 Singer
Beyonce
Pretty Gown and accessories in a white gold, yellow gold shoes, and dark polish.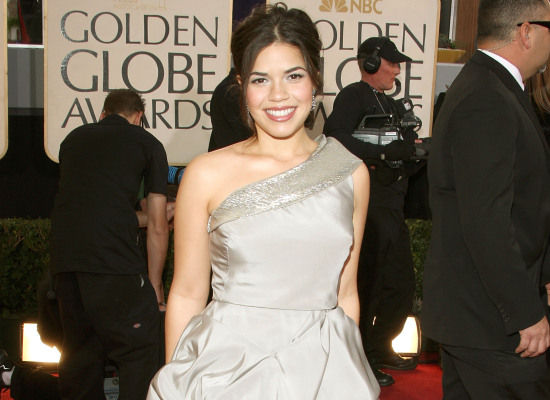 Actress
AMERICA

Ferrera
worn a pretty taupe silk gown. I think the design was different and very interesting. I didn't like her hair style, but she looked attractive.
Jennifer

Westfeldt
dress in amazing black ruffle number and reminiscence of other dresses on the 2009 Red Carpet 66
th
Annual Golden Globes.
Actress Debra Messing
was dressed in a lovely midnight blue, halter top, ruffled gown. Accessories of gold hard clutch and
bangel
bracelets. Large glamours earrings and ring. She was one of the few that went with dark smoky eyes and nude lips.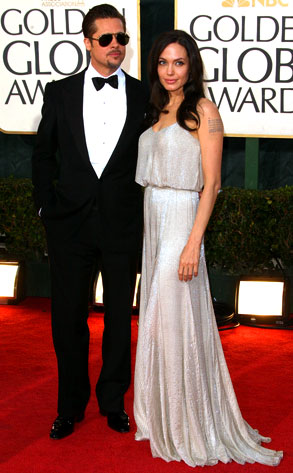 Debra Messing dress is with
Zac
Posen
. The gown is, taffeta and iridescent. Her emerald teardrop earrings provide a contrast. That is how you can tell a stylist pulled this look together.
Of Hollywood's Hottest Couple Angelina Jolie and Brad Pitt.
Best Actor-nominee Brad Pitt paired aviator sunglasses with his tuxedo while Best Actress-nominee Angelina Jolie glittered in a silver
Versace
dress.
Not my favorite was
Jennifer Lopez
. She was stunning but her dress was less. A pretty gold slim fitting number but very similar to her daring low cut green gown a few years ago. Large diamond earrings, gold bangle bracelets, gold clutch, soft natural makeup and
bronzer
. I would have enjoyed this dress more if it hadn't been a repeat. Her jewelry is by Lorraine Schwartz and plunging gold
Marchesa
dress.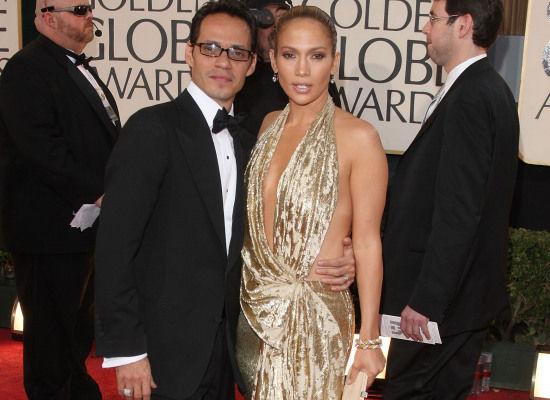 The best dress is: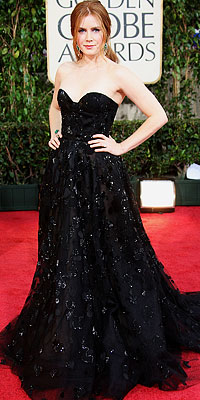 Amy Adams
was wearing a beautiful Gothic chic dress, which is very popular (think of all the vampire books, movies, and t.v. shows of late, and black nail polish). The gown was made by Oscar de la
Renta
. A floor
length
black gown and long train in lace. You can tell a great deal of work and attention to detail in this number. She worn interesting large green and gold leaf earrings, hair was down and half pulled back while a few strands were arranged around front. Now hair makes the whole look so I will say if the hair had been better than this would have been my favorite complete look 2009 66Th Golden Globe Awards at on The Red Carpet.
Actress
Eva

Longoria

Parker
in a stunning red vibrate gown and minimal makeup and
accessories
. I loved her clutch. Some may say she looked like a hydrate walking down the run way and most would. Eva can pull it off and I can't wait until she's glam again on
Desperate
House Wives.
Evan

Racheal

Wood
arrived in a black ruffle and lace number. Very pretty femme and vintage gown. Not my all time favorite because it is busy but some how it works. Simple
accessories
like most of the actresses on the red carpet. Simple yet stunning and natural is in this season. Old Hollywood feel as a lot of actress seem to be channeling 20's to 60's. Some looks had a
greek
or middle evil look but with a
modern
twist.
Actress Christina

Applegate
arrived in amazing yellow gown. I noticed gowns on the Red Carpet with the same top silhouette. Beautiful hair not a helmet head or too loose just right. I love her large necklace and earrings. She completed the look with a slightly darker different shade of yellowish gold purse and shoes, but in the same family.
Glenn Close I sure others will not agree but I liked her mature woman classic two piece suite. I think it fits her personality well. The golden color and top pattern of embellishment keeps it from being too boring. While the bottoms are silk gold. Her hair jewelry and shoes works with her attire. I give this 2 thumbs up.
Rumer

Willis
looks delectable in her purple dress complete with a belt and very little jewelry.
Kristin Scott

Thomes
pretty gold number up do and simple classic jewelry.
Kate

Winsowlet
or Winslate gorgeous as every with a simple yet updated black dress, belt, and simple diamond earrings and bracelet.
Actress

Salma

Hayek
stunning and sexy as always in this neutral tight gown showing that curves are in. Makeup, hair
updo
, and diamond earrings look stunning and pull the look together.
Actress Blake Christina Lively (Gossip Girl as Serena van

der

Woodsen

.)
resident beauty in her blue green tight gown, that made her look curvy. Like
Salma
Hayek
her top half of her gown was bust enhancing. She looked very lovely. The lips and cheeks had a nice hint of color and her eyes pop with their dark liner and long lashes.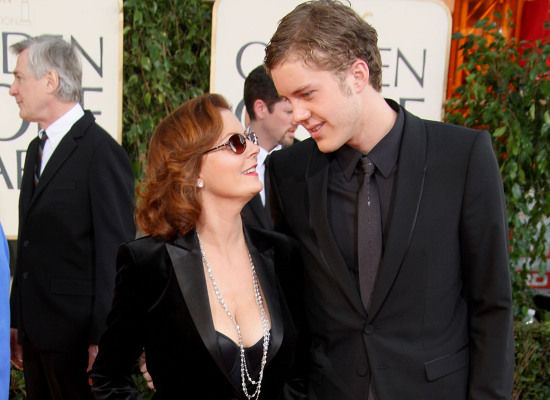 ( Susan
Saradon
)
Worst Look:
Actress
Maggie

Gyllenhaal
gown was awful. The Blue-green and black animal print number with black thick belt was just too much. Now she did keep her accessories to a minimum the only piece of jewelry being earrings and a ring. Also simple black shoes and updo but her red lips and colorful animal print gown was just too much for me. I found the dress shapeless it did nothing for her figure. She could take a lesson from many of the other actress that night. To awful to even picture here.
I'm sure that no one will give actress Susan Saradon top dress award but her look was pretty, clean, simple, and classic. Her chic look maybe too tame for some or too safe and not enough drama. I loved her classic black clutch with diamond brooch it add a little something to her ensemble. The look fits her casual personality and her low cut top. Long 1920's flapper style necklace was a nice touch. Hair loose and curl but It would have been nice to see her a little more Hollywood Glam.
Drew Barrymore I know her family has been around in Hollywood a long time as that is the only reason I can understand why she is called an actress. I sometimes like her looks and she seems to be a nice person but she missed her mark here. Her over the top big hair was pretty but looked like her mom styled her hair at home, not by a professional. Her hair was not the only mistake. Her dress was in a pretty shade of gray with matching eye shadow. I didn't think the matchy matchy look IS back. The coloring of the dress worked well with her skin tone but I didn't find it was the best for her and did not enhance. I did not like the sleeves and what is with the tacky red satin clutch! She also had some bulge she should have wore a body shapier underneath. The only part I liked was the pearl bracelet.


Actress Anne Hathaway I loved this dress in a dark navy blue. Sparkly at the top and soft taffey at the bottom, very feminine. A mix of old, bold and modern without being over the top. I didn't love her hair and you would think after last year she would learn. That hair, makeup and accessories makes or breaks any outfit.
Heidi Klum is usually best dressed and I though could do no wrong, but this dress is just soo wrong. What's with the big bow anyways? The picture I featured above was the best most of the other shots were not flattering. Everything else looked great so I will no hate on her too much tonight.
Renee Zellweger: What can I say about this Black Gown other that awful, atrocious.
Men:
Simon Baker looked soooo sexy in his tudexo. Brad Pitt hot as usual.