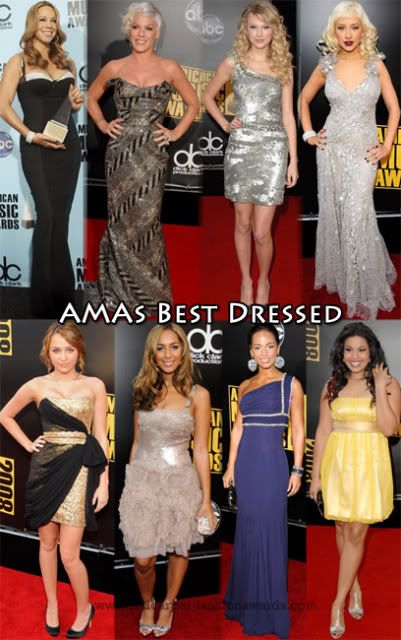 Here are some of my picks of the hottest woman last night on the 2008 American Music Awards. Then the hot clothes or accessories that will or has crossed over.
1st I'll Start with Gwen:
Gwen Stefani never disappoints. She has a unique style and seems to know what is hot. She also opted for the retro look with her all white outfit, short shorts and platinum blonde hair. She made it her own by wearing the outfit and not the outfit wearing her so to speak. Plus she add touches of trendiness making it modern, which is what you should do. Example the thick blunt cut bangs which are in, The late 1970's early 1980's big sunglasses. The she added a classic chic Hollywood scarf around her neck to complete the look. Notice the shades are not in a blue or any other over-the-board color as were the 80's.
This look of Gwens is very similar to her cover album in 2006. This is a tricky look because. If you walked in dress like Lucille Ball head to toe 1950's you would be in the Don't category. One should always wear a couple of retro pieces mixed with modern flairs. She looked absolutely amazing!


Jordin Sparks.
Another mini dress, she loves them and lot of stars have been spotted wearing minis. So minis as still here. Jordin is a beautiful girl and I like her classic makeup and hair, but nothing extra special. Jordin Sparks is wearing a yellow dress by Dolce & Gabbana Pre-Fall 2008 Collection. The look is okay but too spring and youthful for her. This type of dress would look better on a young star such as Miley Cyrus, but the color is stunning on her.
Christina Aguilera
in Elie Saab Fall 2007 Couture. Most people do not like her look at the awards or are confused. I will say her hair looks a lot better then it did on the finale of TLC. Her satellite interview with MTV at her studio behind her house. Her hair was a mess, tore up, a SM, and it looks so much better tonight. I love her hair the best. Bangs are very in and flattering on her and her glamorous curls are very blonde ambition, old Hollywood, meets diva. She is usually known for her old Hollywood glamour and stage drag queen makeup, think Cleopatra. I'm glad to see she is not over done (makeup) like the September of 2008 awards. The dress is pretty and her look is more classic starlet almost winter princess. Her dark lips are still fashionable. Think of Gothic glamor which we saw a lot more of in Septembers fashion. The dress is very pretty but I am very disappointed that a star of her statue is wearing a gown from last years line!
Taylor Swift
in Collette Dinnigan Spring 2009. She is always pretty with her flawless skin and I thought her gown fit her fabulously. It looks like it was made for her, thats how a dress should fit, and she was dress age appropriate. I thank her stylists for the not trying too hard look. The coloring of her Collette Dinnigan gown was just right for her complexion and complimented her eye makeup well.
I adored Rihanna's one black outfit she wore on stage while performing at the American Music Awards. Her hair and makeup is right on as usual, a Rock Chic Look. A Very att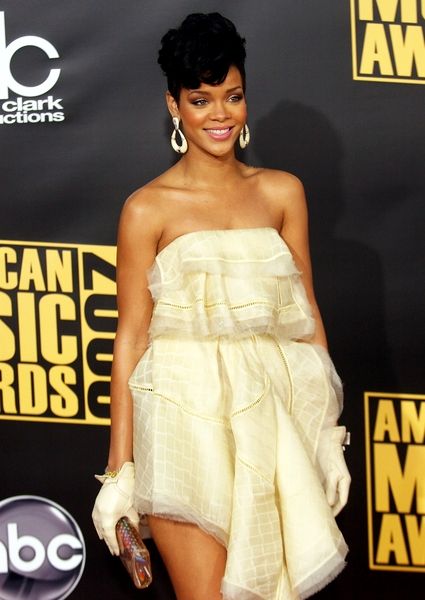 ractive woman, but I'm confused I'm not sure if I like her dress or not. I don't like the dresses she has been wearing lately on the red carpet. They have been "What not to wear".
I give her snaps for trying new thing by being different, but some of her red carpet outfits have been too out there to be fashionable. Rihanna looked as if some one carelessly dressed her fast by wrapping a cloth around her body and added a string or belt to secure the rag. It also looks like a"granny" outfit and the color's okay but not the best. I love that she is daring enough or as Coco Channel said "Dare to be Different".
After I saw this dress on
Ali Landry,
This reminds me of the fluro pink dress and black belt Jessica Biel
wore to the oscars
a couple of years ago, I changed my mind about Rihanna and will put her on my Best Dressed List instead. This dress is ugly and the only good thing I can say is the color is both pretty in general and works well with her skin tone. It was not daring enough and I give this a thumbs down.
I will now move onto PINK... this is the best I think she has very looked but....
Elle Macpherson was the first to wear this Vivienne Westwood Fall 2007 dress at at the 2007 Marie Claire Prix de la Mode event in Madrid last November. Pink in wearing a modified Vivienne Westwood from Fall 2007 . I like Elle better in this dress the bottom half but I think Pink fills out the top half better. Pink also has a better hairstyle to go with it because this is a punk take on glamour. So any slight punk updo would work very well and complete the look. The down side once again is someone with $$$ and Hollywood static wearing a dress that has been wore before. I give her a B for look (she looks great) and D for effort. Her accessories were kept to a minimum, and soft curls added femininity.
I will post my other fav's later.
Post a comment and tell us your opinion.