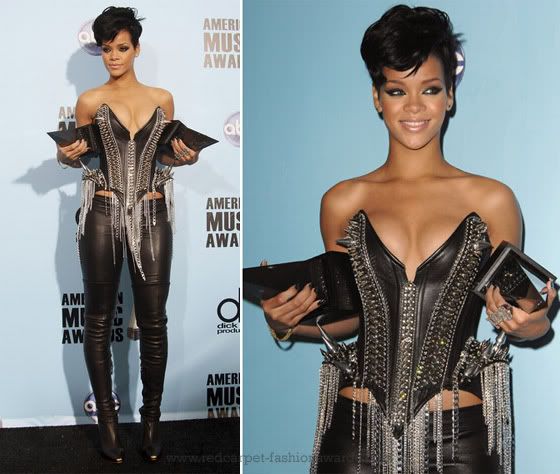 This is the outfit I mentioned in the first post about the 2008 American Music Awards Show. This is so kewl I love It!!! She's rockin it, very ferious! I wish I looked like that. This outfit would have been better than the other two she wore walking down the red carpet.
Carrie Underwood who wore a nude embroidered gown, was chic! I loved her hair, earrings and makeup.
The two pictures following are of Beyoncé Giselle Knowels (born September 4, 1981), and Katharine McPhee. They are best dress as well.
I like the youthful trendy look of Kimberly Wyatt from the Pussycat Dolls in Christian Siriano Spring 2009. (Pictured at the end on the right side.)
Melody Thornton, of the Pussycat Dolls, in Christian Siriano Spring 2009. (Pictured on the left end in the yellow). Melody Thorton wore a lime green halter-neck dress, with pewter strap sandals. Nicole Scherzinger wore a gorgeous strapless grey mini dress with a purple ombre hem. She completed her look with Giuseppe Zanotti sandals. Ashley Roberts also wore a strapless mini, but hers was nude with a black overlay, which she paired with black strap sandals.
Demi Lovato
in Gustavo Cadile Spring 2008
Paris Hilton
one of the worst dress. Just because your family has money doesn't mean your
not
white trash. I know that sounds way harsh, but this looks like a cheap dress. One you would buy at Rave that falls apart one wash later or splits while dancing at a night club. This is not a Hollywood Award show dress but I did like that the fact she showed off her legs and that she wore minimal accessories, but this would have been a good time to wear more since the dress is not the focual point. Then again you would have to worry about too much. Maybe if she keeps trying she will get it right one day.
Miley Cyrus
in a beautiful gold and black Marchesa Spring dress. This dress was one of my favourites. She completed her look with Giuseppe Zanotti heels. Too bad this dress is not age appropriate.
Ashley Tisdale in Philosophy Fall 2008 not my favorite but I like this one.
And lastly the black Dolce & Gabbana gown is sexy, without being slutty on Mariah Carey.